In the development of Building Materials & Interior Design now, consumers increasingly "difficult" in the selection of decorative products to beautify the house "dream" of his. To the needs of all providers offering multiple products and diverse rich help consumers have more choices.
To honor the products of the suppliers and the high quality products closer to consumers, we HOANG KIM 5D is a leading specialist in the design, construction and installation of all kinds of shelves display products for the Showroom.
With many years experience and follow the market, with teams of professional staff, HOANG KIM 5D will be a procedure for efficiently you to lead consumers to the product quality. with the modern style, model updates are fast, good warranty is what HOANG KIM 5D committed to bring to the customers. To our customers will be assured of quality products, and the aesthetic solutions showed beyond time.
We are proud to be a reliable partner of the leading providers most current.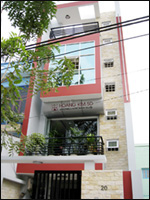 DESIGN HOANG KIM CO., LTD. - HOANG KIM 5D
+ Office:
- Address: 20 Road S3, Tay Thanh Ward, Tan Phu District, Ho Chi Minh City
- Tel/Fax: (08) 5444 0735
- Mobile Phone: 0908 72 79 79 - 0913 74 51 61
- Email: bacsy@hoangkim5d.com ; hoangkim5d@yahoo.com
+ Branch:
- Address: 266/1 Street No. 8, Binh Hung Hoa Ward, Tan Binh District, Ho Chi Minh City
+ Factory:
- Address: 177/35 Luy Ban Bich & 33/2 Go Dau, Tan Phu District, Ho Chi Minh City
HOANG KIM 5D - SPECIALISTS TOP SUPPLIERS OF TYPE DESIGN SHOWROOM
+ Items of construction:
- Implementation on each form.
- Construction Outdoor furniture - Furniture - Installation of aluminum glass front, Alu, stainless steel ...
- Design and construction Showroom, Expo, reception counters, ...
- Provide all kinds of display shelves professional.
[ Sender: Administrator - Created: 20/01/2010 ]